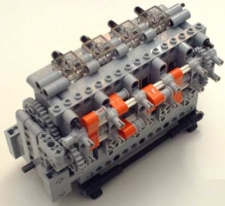 For parents who want to find some of the best and most popular toys for their kids, lego is one of the most classic, yet still most popular, toys you can buy for them.
Regardless of age, there are different lego sets you can buy for your children.
For younger kids there are bigger blocks (so you do not have to worry about choking), and for older kids there are more complex styles, characters, and blocks for them to create new fixtures.
Imagination
Choosing lego for your kids is a great way to get them to become more imaginative.
From the color selections, to the different shapes and sizes of the blocks, they can create almost anything. Kids love it because they can easily make their favorite scene from a movie, or they can recreate something they saw at school, or create an entirely new project.
There are also specialty theme lego sets, from star wars, to jungle themes, haunted house and more. So your kids can make themselves the characters, and create their own alternate universe with the lego blocks they are playing with.
Hours of fun
For kids, lego is going to provide them with long hours of fun, especially if they have those sets with mechanical features, or certain blocks that can move.
From construction site sets, to their favorite movie theme, there are many different lego products that have been produced over the years, which is one of the main reasons the product is still so popular. There are sets for boys or girls, and for all ages, which will give your kids a great deal of fun and will take them hours to create some new scenes, characters, and creations.
Colors
Lego is also great for younger kids if you want to teach them about the colors, and imagination.
With the different color blocks, and the different pieces they can use to create buildings or other figures, they are bound to find several great designs, and they are going to be learning something along the way while they are enjoying themselves.
Can play with others 
For your middle school aged children who like inviting friends over, lego is also great because they are able to play with several friends at once.
So, they can develop different buildings or create scenes from their favorite movies; lego is a very interactive toy, and it gives kids the opportunity to play with several friends at once, rather than having to play on their own with the blocks.
Due to the changes that have been made over the years, lego is still one of the most popular kids toys today. From electronic components, new themes and characters, and themed sets (such as star wars or other great movies), kids love the many fun ways there are to play with lego. And, with new themes and sets constantly coming out for them, it is likely that the creative set of blocks are going to remain a popular educational game amongst kids of all age groups.