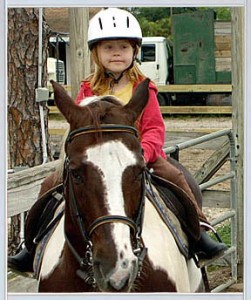 Sending kids to vacation sites that are equally fun and educational like horse riding summer camps for kids can make their time worthwhile without any feeling of missing out their long awaited vacation.
Understand that riding is not as simple as sitting on a horse, and the rider has a participation in making the ride a success. There are more things to expect from riding a horse than meets the eye, aside from having pure pleasure. It can benefit emotional, mental, and physical well being of a child which parents should take advantage of.
A Glimpse on the Benefits of Riding a Horse
Physically, riding can enhance a child's coordination, balance, and awareness. Riding uses different muscles like abdominal, leg, back, and shoulder. Novice riders must expect that the muscles in their inner thigh will become sore, but it will strengthen just as quickly and become stretched. Riding a horse also aids in proper functioning of the liver and digestion. It can also pose as an option for therapy for those patients using wheelchairs.
Mentally, riding a horse can be a good training ground for developing mental awareness that every child should muster. Riding can provide for all the necessary means to keep the brain active at all times. There are times where quick decisions must be made in order to make the ride a success, and when that happens expect that the child will gain an added boost of confidence that will make that child believe in his or her own capabilities.
Emotionally, riding a horse can somehow teach a child emotional stability as many riders find it relaxing and somewhat calming. The rider and his or her horse must have harmony together in both mind and body. A child will eventually learn to feel the things that his or her horse feels and convey his or her own feelings in order to make a beautiful ride.
Planning for the Horse Riding Summer Camps
Choosing the right horse riding summer camp for the kids can be tedious, but it will be all worth it in the end. The horse riding summer camp might just be a life-changing experience that kids will be thankful for the rest of their days.
In order to give the best horse riding summer camp experience for the kids, look for camps that group kids that belong to the same age group to bind together common interests and make interactions with one another easier. This way, riding lesson sessions will also have a smooth flow.
Search for the most suitable time and most convenient location for the camp. Make sure to prepare everything beforehand in order to make certain that all of the things that the child will need are intact.
Discuss the program that a particular camp offers to weigh whether it is the camp that will most likely bring the benefits that a child must get and expect.
If uncertain, make a thorough research about the target camp to take away any skepticism or doubt. Look at the things that the different camps offer and see which one is the best for the child.
Some Camps with their Price
Rawhilde Ranch is famous for giving campers a taste of a real ranch life including horse riding. It is located in North San Diego County. Daily activities include vaulting and western riding. There are also animal and horse science lectures plus roping, drama, and other fun activities. The camp is for boys and girls aged 7 to 15. One week costs $895; two weeks cost $1790; three weeks $2685; four weeks cost $3580. Longer weeks are also available.
The Windridge Tennis and Sports Camp offer specialized soccer, tennis, and horse back riding programs. The camp works hard in giving commitment in good sportsmanship, wholesome fun, and great learning experience amidst a very friendly environment. The camp caters boys and girls aged 8 to 15. Two weeks cost $1640 and three weeks cost $3075.
Frost Valley is where campers experience a different kind of journey from spending a night away from home for the first time to exciting adventures of horse back riding. The camp is for boys and girls aged 7 to 16. One week costs $800-$1700; two weeks cost $800-$1700; three weeks cost $800-$1700; four weeks cost $800-$1700; six weeks cost $800-$1700; eight weeks cost $800-$1700.