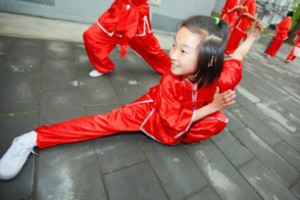 Keeping your child physically active and enrolled in sports activities is essential for many reasons.
In today's modern world, we have so much technology and children are starting to become fixated with these technologies from a younger age. We have pre-teenagers who have mobile phones and accounts on Facebook which limits their activity quite a bit.
Back in the 90s, kids were happy if they could play "don't let the baloon touch the floor", but today kids need all of the fancy gadgets and gaming consoles to keep them satisfied.
So how do we keep our children interested in activities outside of the home and pursuits that promote personal growth and development?
#1 – Kung fu for children is actually quite helpful and popular for a variety of reasons.
Kung fu is a traditional Chinese martial art that emphasizes not just physical strength and stamina, but also discipline, meditation, ethics and morality.
It also allows children to start learning self defense at a very young age which is one of the most important features. There are a great number of kidnappings and abductions to children every year and learning self defense and what to do in a situation like this at an early age will help reduce those numbers greatly. This is why enrolling your child in a Kungfu for children class at an early age is a fantastic idea!
#2 – Try to get your children involved in as many sports as possible without forcing them into sports. Not only will they meet other children and make new friends, which is good for their social health and social development skills, but it'll keep them active and keep them healthy.
#3 – Also engage and figure out their personal hobbies or interests. If they don't have any interests, try to help them find some and take them to the local library. Reading at a young age develops the mind and helps develop strategic thinking. Intellectual people often start reading about their hobbies and interests at a very early age.
What are the complications of inactive children?
While obesity is on the rise and activity levels are down in children, there are a lot of mental health and physical health complications associated with being inactive.
– Children who are inactive at a young age have a tendency to stay inactive throughout their teenager years and young adult years which may put them at risk for heart disease.
– Children who remain inactive through a number of years also have a higher risk of becoming obese which has a huge increase on the risk of developing physical health problems. There's too many diseases to list here.
– Your child's social life may suffer as well. Being inactive and sheltered away from everyone will only develop social disorders, anxiety or even depression.
Enrolling your child in a Kungfu for children class is just one good example of how you can get your child to be active and healthy. There are many different activities and things your child may enjoy, but try to limit their intake of video games and television to a couple of hours or one hour a day. We need to help children stay active as much as possible in the early years so that it hopefully carries on when they grow up.
Teach your children to be physically active from a young age, and teach them how to enjoy it. And most children enjoy Kung Fu, especially boys. They may later  keep a life time habit of engaging in physical activity, and scientific research has shown that this guarantees a better health and life expectancy.